19 Days later....... here is my NYE outfit!

Ok, so, my blogging is proper slacking I know I know,
even though its dead and gone, here's my outfit for NYE.

I went for a casual look this year, I had done an 11-8 shift that day and travelled back to Essex that night to spend it with my besties. We went to a house party it was lovely spending time with people from school who I personally hadn't seen in a while! And drunk quite a lot in a short amount of time..... 2 bottles of wine in one hour? Oops

Moving on..... this top/top dress was a present I got from my boyfriend George for Christmas, he was so unsure of me liking it but I LOVED it, I adore Rottweilers so ill give him major boyfriend points for thinking outside the box!

Since I'm quite short and the tee is quite over sized I could pull it off as a tee dress, teamed with some primark opaque tights (which I go through a dozen a week due to ladders) and my mums new boots she got in the sale from next (pinched those) - but most of all my BEAUTIFUL strange mermaid metallic clutch George also got me for Christmas!

Its a very unique product of H&M and instantly stunned me as soon as I saw it from the corner of my eye! Needed that statement clutch in my life! Wasn't bank breaking either!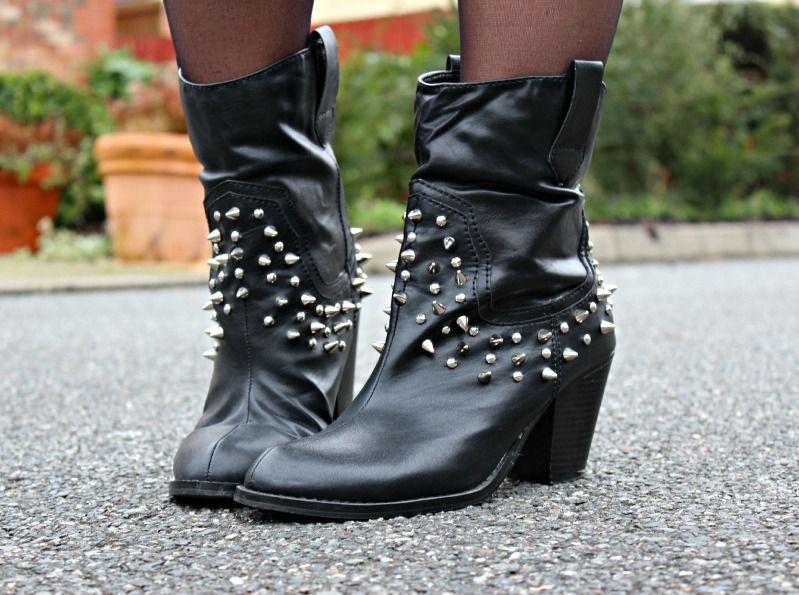 Even though studding is slightly over used lately, these boots use a fair amount of studs, but have something about them which caught my eye since they look like a casual cowboy boot with a bit of DIY studding to it.
You did good Mumma!
Top - Present from boyfriend - from Ebay/Amazon
Tights - Glossy pack of 5 - Primark - £3.50
Boots - Next - £20
Clutch - H&M - £14.99
Do share your thoughts with my outfit!
Comment or tweet <3
@CHARHOLE